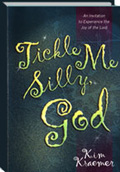 <![if !vml]>

<![endif]>
Hello, it is an honor to share this book with you today. By the Grace of God "Tickle Me Silly, GOD" TMSG is a Revelation into the Joy and Glory of The LORD Most High. As you read this book, you will have an exchange with GOD that will be LIFE Changing and YOU will never be the same again. Follow the link to Read excerpts from Kim's book .
The Radiant Glory that is evident upon Gods elect! Today you will find that the LORD is pouring out His Spirit upon all flesh in these end times, just as Joel the Prophet said that He would.
In her book, Kim shares her experiences of the realm of JOY and Glory, JOY not only releases us, it strengthens us, delivers us, and is a powerful weapon for spiritual warfare. She further states "God is sending wonderful glorious laughter and JOY into the lives of believers all over the world, especially where Revival and Gods Glory is being poured out- why, because God can! He does not need our permission. The JOY of the LORD can be spontaneous and life changing.
Here is a book that will help YOU to experience the JOY of the LORD for yourself. As the Prophet Nehemiah said, "The JOY of the LORD is your strength" It is TIME church to Believe it and to Receive it, now! Arise and Shine for The Glory of the LORD has risen upon you.!
Run the race in excellence and integrity. From Glory to Glory, we go up. Music sample By Lindell Cooley Enjoy~